by Rick Kaselj
Kinesiologist, Pain & Injury Specialist
YES! You can live pain free everyday.
Request Your FREE Copy Of "The Pain Hacker" DVD and Discover How to End Your Chronic Pain with an Extensive List of 90-Second Pain Fixes so You Can Go Back to Living A More Happy, More Active and Pain Free Life
I am Rick Kaselj and they call me "The Pain Hacker".
The information and exercises you'll find in this exciting program is not copied from someone else's work or something that I just overheard at the health and fitness centers.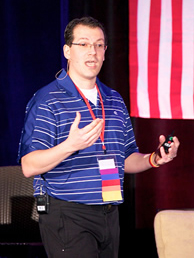 I am a Registered Kinesiologist and Personal Trainer who researches the ins and outs of the problem. My system is the result of my Masters of Science degree focusing on corrective exercise and therapeutic exercise, years of firsthand experience, constant searching for the best pain hacks and teaching pain techniques to thousands of other fitness & health professionals plus thousands of personal training sessions with pain sufferers, and the careful analysis of hundreds of medical research papers.
I did thorough studies and kept scrupulous records from hundreds of my clients to determine which things actually worked in real life. I worked years of answering questions and questioning answers. I had been collecting data, did assessments to test and retest methods, and came up with the best and most effective ones.
I have seen fitness myths and fads come and go, but my methods remain valuable over time.
I'd like to send you a free copy of my newest DVD, "The 90-Second Pain Solution".
This system will not only help you naturally manage your chronic pain but will also enable you to...
Achieve a maximum level of body performance
Find a gateway to a better sleep cycle and enhanced quality of life
Manage and prevent additional sources of pain in the future
Increase sense of stress relief and improve mood
Obtain a toolbox of effective strategies and techniques for pain relief
Since 1994, I've been helping people overcome chronic back and joint pain which pretty much means I help people regain their pain free movement so they can live a happy and active life.
In this free DVD, I go through the most common types of chronic pain that people encounter, such as sharp and shooting back pain, crippling knee aches and severe shoulder and elbow pain. I give you a quick and simple "90 Second Pain Solution" that you can do anytime and anywhere to overcome the aches and pains that have been keeping you from enjoying life.
Here are just a few of the pain fixes that you'll find in "The Pain Hacker":
In fact my unconventional "Pain Fixes" have been featured and talked about in Men's Health magazine, on Livestrong.com, in Men's Journal and in dozens of other magazines, newspapers and online medical resource sites.

Plus, my pain hacks are used by thousands of health & fitness professionals worldwide who want their clients to stay happy, healthy, and pain free.
Get the DVD for FREE! Just Pay a LOW Shipping Fee!
But wait, there is MORE...
You will also get these BONUSES!
Bonus #1 - 14-Day Free Access to Invincible Body Program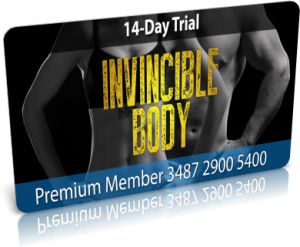 When you order NOW, you can immediately access the Invincible Body membership site. Your member login details will be sent to your email instantly after purchase so you can begin your journey to a healthier and sexier you right away. After the 14 day trial period, the membership fee is only $47/month. You may cancel easily at any time by emailing us at support@exercisesforinjuries.com. No questions asked. This complete online library of Invincible Body will be your partner on getting started on the road to fitness and a new you!
Through this program, you will be able to:
Gain instant access to the blueprint, exercise library, handouts, secret group community and so much more as you take your journey to health and fitness.
Achieve stronger joints, toned muscles and greater calorie burn.
Learn strangely simple exercises that will change your life.
Explore the one of a kind system that will help you achieve your dream body without the risk of injury.
Bonus #2 - Top 10 Morning Movements To Loosen Up Your Joints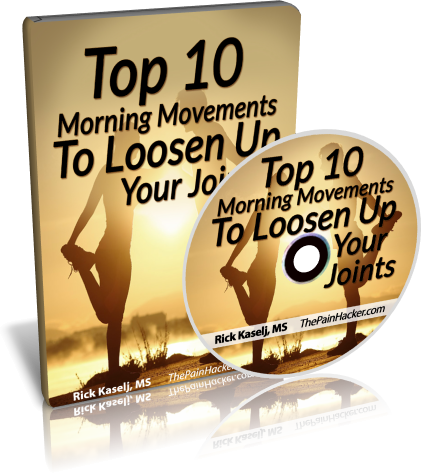 You will also get this quick and easy reference guide. If you don't have time to watch a video in the morning before heading to office but you want to go to work feeling great, you have this guide that you can simply print out and refer to anytime. It will show you in one page the simple step-by-step pictorial format of exactly what to do to execute the 3 best movements for your neck, shoulder and back.
A quick flip through of the guide is all you need to help you perform a couple of exercises that are not risky, not painful, and safe to loosen up specific joints. I will show you precisely how to carry out the exercises to relieve your pain when you get up, go to bed or whenever you need it. This is the perfect supplement that offers fast benefit!
Need more convincing? Check out these glowing testimonials from grateful users of my pain hacks......
Thank you Rick, you saved my career!

Marco Mura, Professional Forester
Sardegna, Italy
My trainers and clients to turn to Rick when if they want their problems to get fixed and rehabilitated.

Greg Beitling,

Lit Fitness, Blue Springs Boot Camp
Rick made what could have been a complex concept easy to understand.

Tara Stevens, Personal Trainer
Coquitlam, BC, Canada
Applying your techniques I was able to resume doing pull ups and was able to continue my with my kettlebell obsession. Bilateral medial and right sided lateral epicondylitis was spilling over into my ability to use heavy surgical
instruments without pain, which obviously is a career killer. Your techniques were great in relieving my symptoms.

Craig P. Eberson, M.D.,

Division Chief Pediatric Orthopedics and Scoliosis Providence, RI, USA
I used the 90 second pain relief alone and it helped relieve the pain right away and after playing sports I feel better and the pain is not as intense.

I thought I would just have to retire due to the foot pain, but I now see there is hope with your program it has helped me a lot.

Audal Acosta
If you're suffering from back or joint pain and you just can't seem to find a cure, then the information in this free DVD is going to help you. I have a limited number of DVDs available and I'd like to send you one FOR FREE.
Because of the limited supply, please request only one DVD.
If your goal is to overcome the aches and pains that are slowing you down and live a happy, healthy, and pain free life, then request your free copy of The Pain Hacker DVD TODAY!
Remember... regardless of your current health condition, gender and age, this system WILL work for you!  This offer is LIMITED. Which means that you have to TAKE ACTION RIGHT NOW! DON'T MISS THIS AWESOME OPPORTUNITY!
You will also get unlimited access to the Invincible Body program FREE for 14 days. You'll gain instant access to the blueprint, exercise library, handouts, secret group community and so much more! Your member login details will be sent to your email immediately after purchase. If you have any problems logging in or accessing your materials, email us at support@exercisesforinjuries.com. After your free 14 day trial, your subscription will automatically renew for just $47/month until you decide to cancel. You can cancel anytime, no questions asked.
Click The Button Below To Request Your Free Copy Now!
If you want to stop your pain, follow the procedures as they are put forth. I do love your products. You are a great mentor. Thanks again, Rick.

Robert Pearey
Before I used the information, I couldn't walk normally for at least the first 15 minutes each morning. After using the program, I only have a little pain, but it eventually all got better with continued attention.

Cher Anderson,

Athens, TN
I just wanted to say thank you for providing what I needed to resolve my hip problem! I have been lifting weights since February of last year, but it has only been in the last 2 or 3 months that I noticed a problem in my right hip.

After following your exercises, I went through work all day with no pain and no pain medication. Yeah!! Thanks so much for a simple answer to a problem I have been dealing with for months.

Tracy Walker,

North Carolina
My low back used to be very stiff and tired regardless of how much I stretch or exercise. I've been doing the flow routine for about a week now and notice improvements in the stiffness.

Jennifer C.,

Professional Hair Stylist, Colorado
Your exercises have changed my life. I have been in constant pain for 15 years. The worst has been the last 2 years. Thank you!

Shelley Watson, Retired Executive Assistant
Carmel, Calif.
You can join thousands of satisfied clients who are now living pain-free by ordering your FREE copy of The Pain Hacker DVD today!
The Pain Hacker
P.S. - Change can only happen with action. Every second you wait, the odds of you doing nothing, doubles. It is important to take action now...
P.P.S. - You have nothing to lose and everything to gain.
P.P.P.S. - The DVD is yours FREE. So, what's holding you back? Grab your own copy of the The 90-Second Pain Solution DVD TODAY!
"This is Your Last Chance to Get Your Copy of The Pain Hacker."
Click The Button Below To Request Your Free Copy Now!